Contracting at MV-Jäähdytys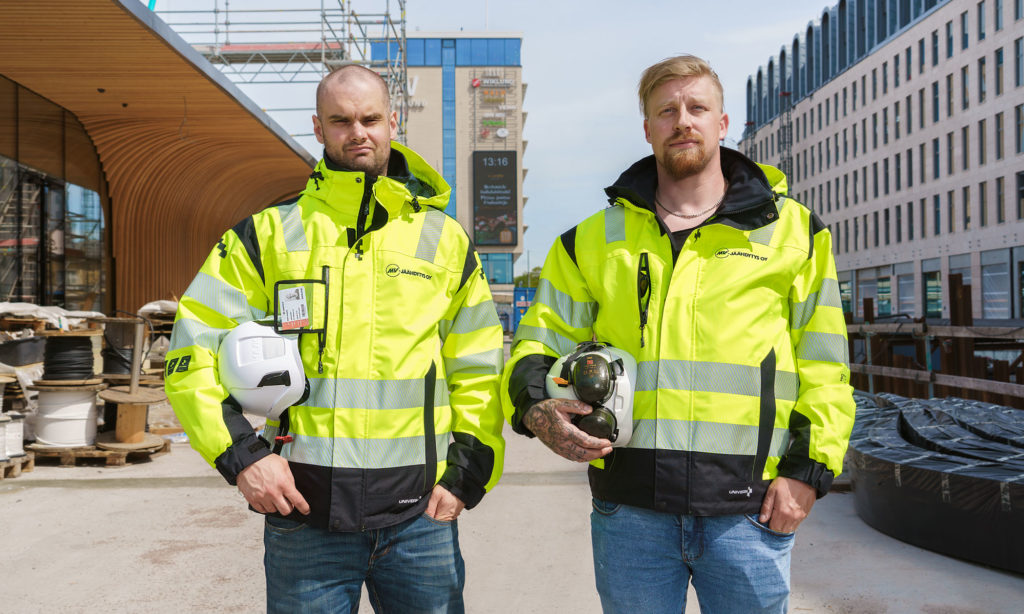 MV-Jäähdytys serves you nationwide, designs and carries out cooling, cold and freezing solutions and solutions for environment control for various industries and needs.
Our project managers are experts in their industry. They can design and create any kind of cooling or heating system. Our clients are e.g., construction companies, industrial plants, plumbing companies, building maintenance companies, housing companies, buildings, people living in detached houses and device manufacturers.
We install all cooling and refrigeration systems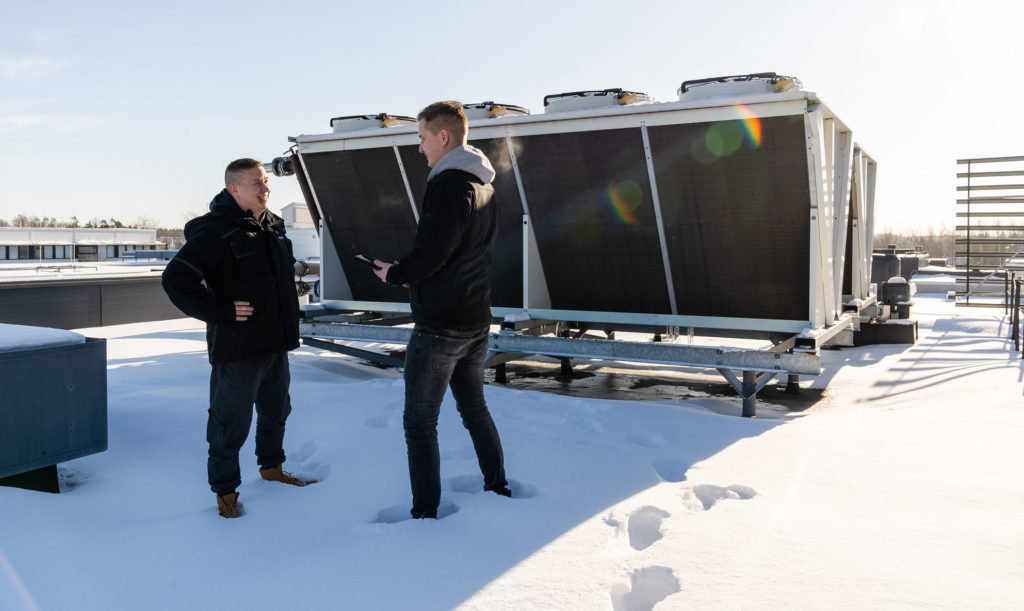 MV-Jäähdytys is an expert in refrigeration and cooling, founded in 1971. We have 50 years of experience of refrigeration installations, and we have followed the development of our industry continuously and carefully.
Cooling technology is required for example in air conditioning real estate, cooling the space and intake air, in heat producing server spaces, in storages, in healthcare for MRI rooms and in industrial process cooling. We install all cooling and refrigeration systems available on the market. The client's needs determinate the manufacturer and technology used.
Together with the client and based on the client's needs and wishes, we will design a solution, which will be durable, energy efficient and have low life cycle costs. We always take surrounding equipment, devices, and heat recovery solutions into account. Read more about our expertise in heat recovery below!
Even after the installation, we give consultation, make refrigerant analysis and advice in challenging user situations and give user guidance based on the client's wishes. Did you know that it is possible to get an extended 12 month guarantee for refrigeration and cooling systems installed by MV-Jäähdytys into the bargain?
Process cooling and water-cooling systems
Cooling is an essential part of industrial processes. MV-Jäähdytys designs and installs cooling systems for industrial processes while considering the energy efficiency of the equipment and the total benefits of the project. The need for primary energy can be significantly reduced with expert planning, when the client makes both a cost-efficient and a green choice at the same time.
While choosing the technology for the refrigerating / cooling system, the requirements of process cooling, the special features of each plant and environmental protection must be considered. This is the only way to find a solution, which can be carried out both from an economical and a technical perspective.
Industrial cooling systems are systems in which excess heat is removed from the medium by heat exchange with either water or air. This will lower the temperature of the medium. We are talking about air cooled water chillers and water-cooled water chiller systems.
The needs for industrial and manufacturing process cooling must always be fulfilled to maintain stable process conditions, including starting and ending the process. The minimum and maximum temperature and required cooling capacity needed for running the process must be guaranteed in all circumstances. This is the only way to ensure the efficiency and reliability of the industrial and manufacturing process and to reduce production losses and emissions. This is more important, the more sensitive the processes are to temperature fluctuations.
As stated before, efficient consumption of energy is important in industrial processes both in terms of cost efficiency and environmental impact. Usually, the best way to improve the total efficiency of energy consumption is to reduce the amount of heat energy wasted in the cooling process. These include both internal energy transfers of a cooled industrial or manufacturing process, as well as the connection of processes to adjacent processes.
In industry, there are many cooling needs and ways to improve energy efficiency. The key is to improve the overall efficiency of the cooling system by considering all possible energy flows in the design. Heat recovery and reusing heat are important elements in process cooling design.
For example, the condensate heat generated during cooling should be recovered and reused with the help of a heat pump.
To minimize energy consumption, and due to the future sanctions brought by the EU's green guidelines, it is often profitable to modernize old equipment. Modern process cooling systems are energy efficient, safe and environmentally friendly.

Air conditioning cooling and cooling of supply air



One doesn't often pay attention to a well-functioning air conditioning cooling system, but if there is none or if it is broken, the consequences are immediate. Summer heat waves and working in hot conditions is something that should be anticipated in time by taking care of the air conditioning cooling.
A well operating air conditioning cooling guarantees a pleasant environment for both clients and workers. MV-Jäähdytys installs air conditioning cooling systems in both bigger and smaller sites. A well-designed air conditioning cooling system makes it possible to tune both the temperature as well as humidity.
MV-Jäähdytys designs and installs air conditioning cooling systems nationwide, all over Finland. The air conditioning cooling system should be chosen based on the total energy efficiency of the system, the client's needs, and local climatic conditions. We represent equally all brands on the market, because for us, our clients are our focus and we always base our equipment choices on their needs, putting our clients first. We use only modern technology, which has been developed to operate as energy efficiently and environmentally friendly as possible. Equipment that consumes little energy brings significant cost savings in the long run.
We carry out cooling solutions for demanding sites such as hotels, hospitals, airports, offices, shopping malls and different production facilities. In our solutions, we will always try to utilize condensation heat recovery and free cooling. Our experienced sales personnel and cold designers will find you the best solution in terms of energy and investment costs.
Split and multisplit systems
At small sites such as restaurant kitchens, detached houses or building reception areas, the solution is often an air source heat pump. When there are several indoor units for one outdoor unit, we talk about multi split devices.
VRV/VRF systems
What is the difference between a VRV and a VRF system? There is practically none. VRV and VRF are two different terms used for the same cooling technology of which the first (VRV = Variable Refrigerant Volume) the manufacturer Daikin has registered as their own trademark. Other manufacturers use the term VRF (= Variable Refrigerant Flow) for the same cooling systems. Therefore, VRV and VRF are practically synonyms for the same cooling technology.
The VRF system operates basically by the same principles as a regular air source heat pump, but it is designed for air cooling and heating of large spaces due to its power class. On larger sites, VRF systems (variable refrigerant volume) are used for air conditioning cooling, and may have even over a 100 indoor units. VRF systems are often installed in large office buildings, stores, hotels, storage, and logistics centres as well as production facilities.
A refrigerant is used as a cooling substance. New sites or renovation sites can also be equipped with a cooling coil installed in the ventilation unit of the building. The compressor condenser itself can be placed outside or in the IV engine room.
Free cooling
The most common way to cool is by using compressors. This technique is referred to while speaking of mechanical cooling. However, free cooling means that the cooling needs are resolved by utilizing the temperature changes of outdoor air and waters.
If the water circulation system has a cooling machine, the outdoor heat exchanger is installed in the cooling machine between the refrigerant and heat collection circuits. Below a certain outdoor temperature, water is cooled by outdoor air instead of a cooling machine.
At sites where cooling is needed also during the winter, such as at industrial sites, it is profitable to use free energy by utilizing the free cooling technique.
Cooling of server rooms and data centres
We provide reliable solutions for cooling, which are designed to function in data and technology centres producing a significant amount of heat. In data centres, a typical choice is standard air conditioners intended specifically for cooling IT equipment rooms, but the final choice depends on always on each situation and the client's specific needs.
The equipment selection of MV-Jäähdytys includes the industry's most energy-efficient and reliable standard air conditioners for cooling server rooms. Standard air conditioners are applicable for cooling and environmental control in e.g. electrical and battery rooms, laboratories and test environments.
The expert refrigeration installers at MV-Jäähdytys will carry out even the most demanding applications of cooling and precision air conditioning.
Did you know that MV-Jäähdytys also maintains and repairs cooling equipment! Read more about our annual maintenance contracts or order a maintenance right away.
We install all cold and freezing spaces
MV-Jäähdytys has installed, maintained, serviced, leak checked and repaired cold and freezing spaces since 1971. We install all cold and freezing spaces, their appliances, and vertical cabinets.
Cold and freezing spaces are typically found in restaurants, commercial kitchens, kiosks, grills, health care premises and specific storage and logistics premises.
MV-Jäähdytys installs cold and freezing spaces and their appliances with professionalism and over 50 years of experience. Equipment will be chosen together with the client to match the client's interest the best way possible. The choice will be based on the client's use of the equipment and its total energy efficiency. We also install vertical cabinets such as freezing and refrigerating cabinets, instant freezers and drinking fountains.
Did you know that it is possible to get one year of extra guarantee for cold equipment installations made by MV-Jäähdytys! Read more about MV Extended Warranty here!
We install all heat pumps and heat recovery systems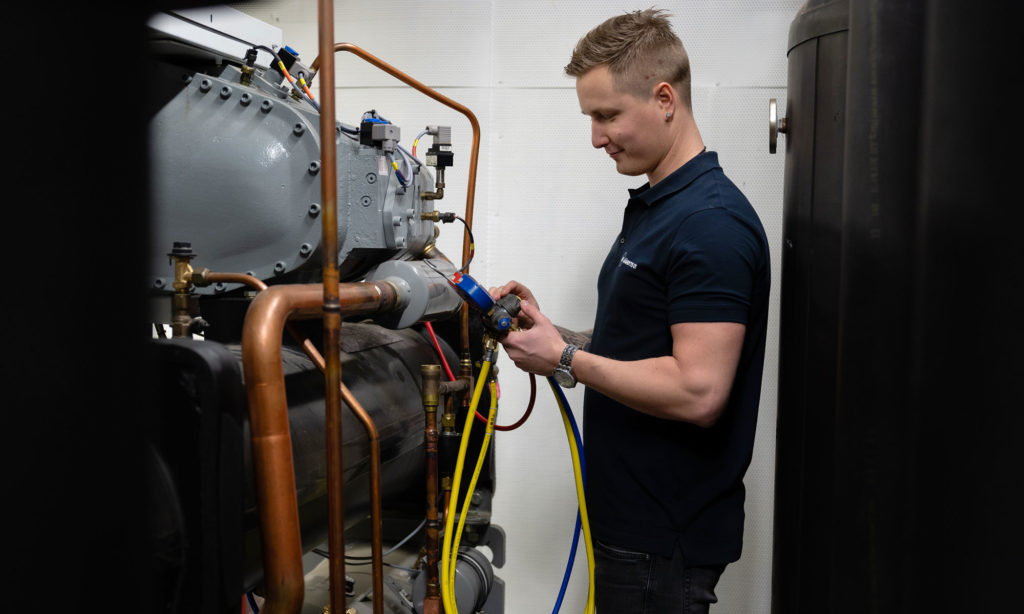 Heating and heat recovery systems are installed into buildings, housing companies, industry, new buildings, farming and to detached houses. MV-Jäähdytys installs all ground source heat systems. Our expertise covers ground source heat pumps, air source heat pumps, air-water heat pumps and heat recovery systems.
Ground source heat pump
You can get full-service ground source heat solutions and renewals from MV-Jäähdytys. We install, maintain, service and repair all ground source heat pumps and heat recovery systems all over Finland.
As its name suggests, ground source heat is solar heat stored in the soil. In Finland, the heat of solar radiation reaches a depth of about 15 meters, and geothermal heat produces a temperature of about 6-10 degrees at a depth of 200 meters, depending on the soil. Ground source heat is an ecological energy source that is suitable for heating different buildings, such as detached houses. Geothermal heat is completely pollution-free, inexhaustible, renewable and what's best – a very affordable heating option also in the long run.
A ground source heat pump (GSHP) is a carefree heating device, which you can use efficiently all year around. In winter, you can use the heat stored in the soil of your property in an environmentally friendly way and save on heating costs. In summer, the same principle works the other way around. During a heat wave, the soil will remain cooler than the air and therefore you can cool your home to a pleasant temperature during summertime. Therefore, heating and cooling by using ground source heat is ecological and cost efficient, because most of the heating comes from your own soil, free of charge. The use of a geothermal heat pump requires electricity, but if designed correctly, you can use it to produce heat for your home or property many times over. Renewable geothermal heat significantly reduces the carbon footprint of your home or property and makes it more energy independent.
Old heating systems such as oil, electricity, and wood boilers, can often be changed to ground source heat. Energy savings are up to 80% compared to before, because energy is only used for heat transfer from the soil to the building.
Did you know that the exhaust air of the ground source heat system can be recovered from the geothermal device! Let's talk about heat recovery solutions (HR). It often makes sense to combine a heat recovery system with a ground source heat pump. It is therefore a very usable and ecological combination that gives the customer clear savings. We install, maintain and repair also heat recovery units. Feel free to contact us if you have any questions about heat recovery or different heating systems, and to ask for a quote for the project you desire.
Air source heat pump
Do you want to save on your heating expenses with a low-cost investment? With an air source heat pump (ASHP), you save on heating costs! By getting an air source heat pump you can both heat and cool your property. In addition, the air source heat pump acts as an air conditioning device, removes humidity from your property and clears air.
An air source heat pump is an excellent solution when you are looking for a heating system to support oil or electrical heating or you want to cool down a certain space in your property, such as a hot professional kitchen or an office space.
Air-water heat pump
An air-water heat pump also known as an air-to-water heat pump and ASHP is a heating solution, which uses the most modern heat pump technology. An air-to-water heat pump is a heating system, which recovers heat from outdoor air the same way as an air source heat pump, but instead of releasing it to the air like an air source heat pump, it transfers it into water.
An air-water heat pump is often installed on sites, where it is not profitable, or possible to install a ground source heat system due to limitations of the property. An air-water heat pump can also be connected for hybrid use with, for instance, an existing oil heating system, when the oil boiler warms the house during the coldest weather and supports the air-to-water heating system whenever needed.
There are a couple of different types of air-to-water heat pumps. In split -devices the heat pumps cooling equipment is divided into two parts, the outdoor and the indoor unit, between which the refrigerant circulates. There are also Monoblock devices in which all the technology can be found in the outdoor unit. Only water circulates between the chargers inside the device and the outdoor unit. A Monoblock device can also be connected straight to an existing heating system, such as an oil boiler.
An air-to-water heat pump is a good solution, especially when it is not possible to make the horizontal piping or a heat well required by a ground source heat pump, for example, in a groundwater area or when the geothermal investment would be large in terms of the investment cost compared to the energy demand.
The investment itself is usually cheaper compared to using ground source heat, but the difference in investment costs depends on many factors. An air-to-water heat pump provides clearly less free energy on an annual basis compared to a geothermal system. The difference in free energy grows as we move from southern Finland to the colder temperature zones of northern Finland.
Air-water heat pumps are nowadays so called inverter models, in which the heating power is adjusted by controlling the speed of the compressor. Direct current control also improves the efficiency, extends the life of the compressor, and reduces the momentary electricity consumption peak, caused by the compressor starting. With speed control, the heat pump produces the right amount of heat energy for the building.
MV-Jäähdytys represents all air-water heat pumps on the market and is happy to assist with choosing the right equipment. We will serve you during the whole life span of the equipment, because in addition to installing, we also maintain, service and modernize the equipment we have installed.
Heat recovery
Heat recovery is a general name for a system, which is intended to utilize the thermal energy carried out with the exhaust air. It includes exhaust air intake devices and control systems, i.e., automation.
Heat recovery is suitable for all apartment buildings and buildings with mechanical ventilation. Ideal sites are apartment buildings, halls, and commercial buildings with centralized air extraction. The heat recovery system is also compatible with district heating or with a geothermal system. In heat recovery, the warm air in the exhaust air is transferred back into the supply air. This reduces ventilation heat loss and reduces heating costs by saving energy by up to 30-40%. The investment pays for itself in up to 8 years!
In housing companies, thanks to heat recovery systems, the charge for common expenses can often be kept as such, and the loan taken for investing in the system can be paid with the savings that come from cutting down energy consumption. In addition, the renewal increases the value of the housing company.
We povide solutions for environmental control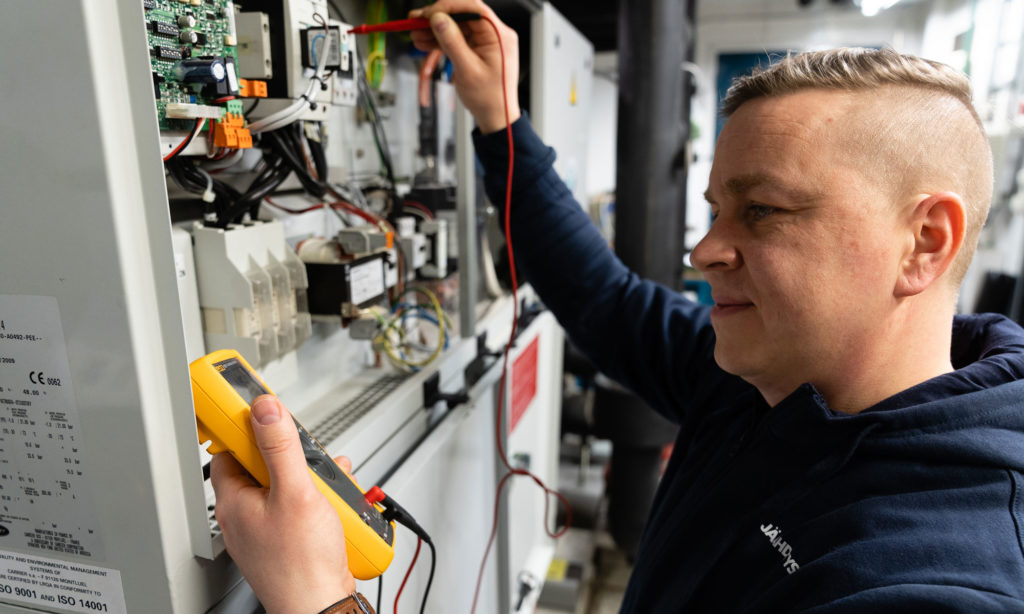 Our expertise includes also demanding clean rooms and laboratories requiring environment control.
Laboratories and clean rooms are controlled special environments, where predetermined conditions must be maintained to ensure working and cleanliness. Controlled conditions are for example humidity, temperature and cleanliness. Environmental control in these special premises requires a seamless coordination of space arrangements and building technical systems. Professionally dimensioned systems guarantee uninterrupted operation and protection of employees and production.
In addition, we provide special solutions for i.e., food industry, MRI trucks and pharmacy automation systems. Our expert project managers and our further qualified refrigeration fitters are famous for their ability to carry out special solutions for industrial needs and health care.
MV Extended Warranty
The relentless team of MV-Jäähdytys is committed to make its customers lives as easy and safe as possible. That is why we provide an extended guarantee period of 12 months as a benefit for our customers who have purchased new equipment. That is to say you will get an extra 1 year guarantee on top of the 2 year guarantee provided by the manufacturer! This MV-Jatkotakuu applies only for cooling equipment installed by MV-Jäähdytys. You can redeem the extended guarantee by signing a three year's fixed-term maintenance contract with MV-Jäähdytys to which we grand a care-free (1 month) notice period.
 Feel free to ask us for a quote tailored for you!
MV-Jatkotakuu is a popular service among our clients! Check out the video below!