Buy the heat pump now and pay it later!
Buying a heat pump is now possible to be easily done also with financing from Resurs Bank! Order a heat pump right away, and you'll get up to 12 months of interest-free payment time.
Using affordable financing:
You will get the heat pump in your home before you pay
Up to 60 days of payment time without costs and interest
There are no fees for opening an account or annual fees
You will get up to 12 months of interest-free payment period
The account is also suitable for your future purchases without a new credit application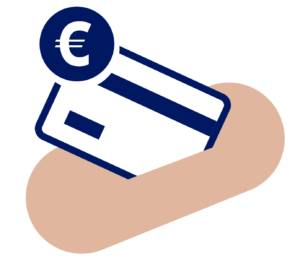 | | | |
| --- | --- | --- |
| Payment options | Processing fee / month | Interest |
| 30-60 days | 0 € | 0 % |
| 12 months | 7,90 € | 0 % |
| 24 months | 7,90 € | 8,90 % |
| 72 months | 7,90 € | 12,90 % |
Example of a purchase: €5,000, with the 12 months payment option. Annual interest rate: 0%. Processing fee/month: €7.90. APR: 3.26%. Credit costs: €94.80. Total payable: €5095. Installments/month: €424.57, 12 instalments. An energy account is a continuous credit with a minimum credit limit of €3,000. Other use of the credit may result in a higher or lower effective annual interest rate.
Resurs Bank
Introducing our partner Resurs. Together with Resurs, we want to help you find balance in your finances and life. Divide your payments into installments that suit you and pay only when the invoice arrives in the middle of the following month.
Applying for credit
Applying for an account is quick and easy. You can apply by clicking the link below or with the help of our sales team. Once you make a purchase, you will receive an invoice the following month. You can choose to pay the entire amount at once or in flexible installments. Resurs Bank AB Finland branch is the creditor.
You will receive an immediate decision on your credit application and gain access to the credit once you electronically sign the credit agreement. After that, you can use the account as a payment method.
Do you have credit related questions?
You can be in contact with us or directly with Resurs Bank's customer service, which is available on weekdays at the number: 09 622 4308.