Solutions
We provide service to the hotel and restaurant industry as well as public administration/the government. Our dedicated and skilled personnel guarantees that we can take care of all installation, repair and maintenance needs or our customers, around the clock. We maintain all types and brands of professional kitchen equipment.
Our expert maintenance technicians understand the logic behind heated equipment used to manufacture groceries as well as the cold equipment used to store them, not to mention the air-condition equipment throughout the kitchen. In addition to fault repairs, we offer annual maintenance contracts aimed for the whole equipment structure in the kitchen, which allows us to guarantee a long service life, best possible functionality and energy efficiency.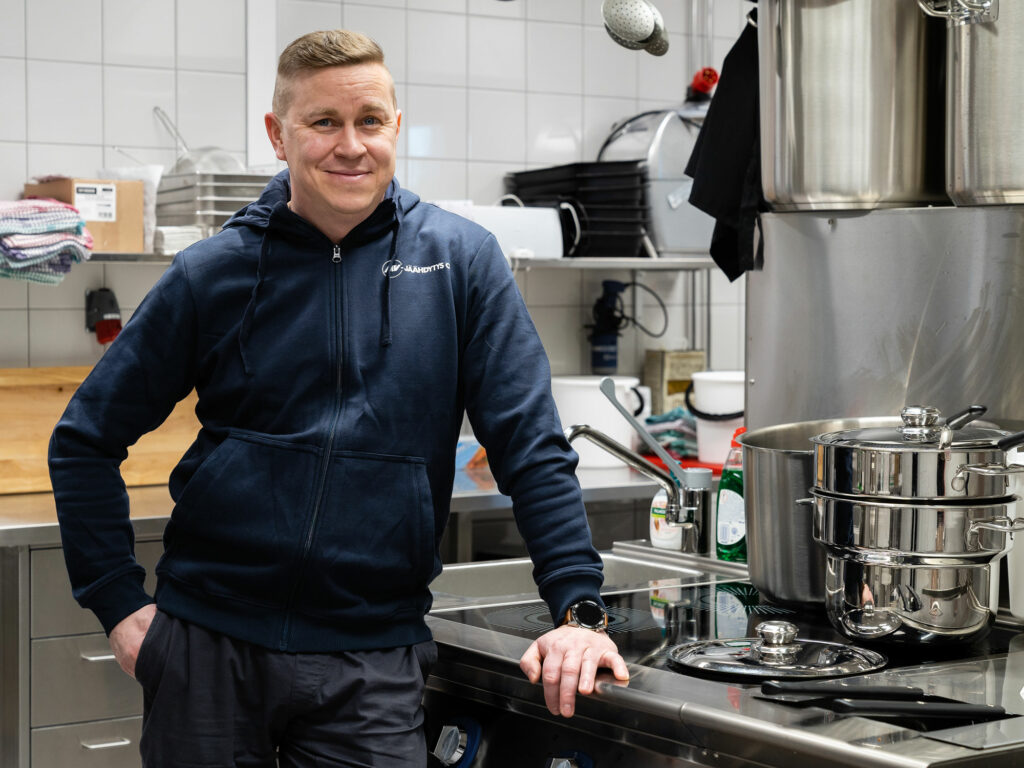 Our professional kitchen equipment technicians know everything there is about ovens, cooking pots, transport trolleys, tunnel dishwashers, sorting machines, general mixers, coffee machines, granule dishwashers, hooded dishwashers, vegetable cutting machines, grinders, pot mixers, grease cookers, vacuum machines, pealing machines, bio waste systems, sausage rollers, heat preserving cabinets, pans, stoves, grills and circulators.
Our diamond tough cold equipment technicians take care of the air-conditioning systems, cold- and freezing rooms, beverage containers, refrigerators and cold showcases, cold drawer systems, rapid cooling and rapid freezing equipment, icemaking appliances, freezer containers, soft ice- and pasteurization machines.
Our services
We maintain and install all types and brands of equipment:
Electrical equipment used in manufacturing and heat preserving groceries.
Cold equipment meant to freeze and refrigerate groceries.
Air conditioning equipment like watercoolers and air source heat pumps.
Transportable cold storage trailers that are designed for storing groceries temporarily.
Annual maintenance
Annual maintenance contracts bring ease to the hot and busy days in professional kitchens. MV-Jäähdytys services all equipment according to the manufacturers instructions, so that the lifespan, reliability and energy efficiency is guaranteed.

On our survey visits, we make ID´s for your equipment for our internal maintenance system. After the survey visit, customers receive an annual maintenance plan that includes the service intervals and recommended procedures to every appliance.  This plan has been designed according to the guidelines from each manufacturer and is completed with information based on our experience and training. For example, in our recommendations we take in to consideration the condition of specific equipment ja their estimated lifespan.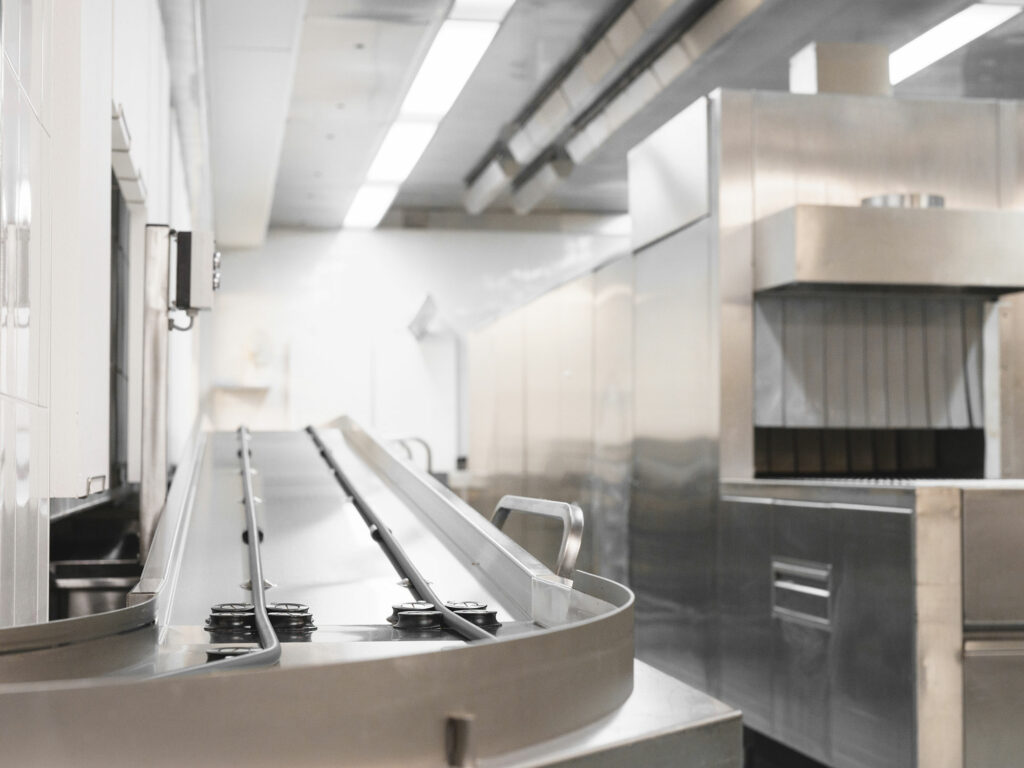 Annual maintenance insures the continuity of core functions for our customers. Our mission is to make our customers succeed. We achieve this by minimizing equipment faults, improving economy and ecology while ensuring the energy efficiency and long lifespan so that surprise investment are redundant.
As soon as the contract starts, our system gathers specific equipment data such as limescale removals, spare part changes, trial runs, re-programming and equipment fault logs. With our smart and real time software, we are constantly aware of the pulse on your equipment. We can for example find out the fault quicker since we know the machine and know how to predict it´s behaviour.
MV-Jäähdytys takes care of  your maintenance needs with quality and in a timely fashion. Our customers don´t need to call after their annual maintenance or remember the schedules themselves. We will remind them and organize, in accordance with the customer, the most suitable time for it.
Read more about our annual maintenance contracts!
Fault repairs
Faulty equipment can show various different symptoms. Cold storages can get warm, coffee machine leaks water, ovens and cooking pots can suddenly have a longer cooking time, the grill doesn´t heat up, dishwasher can foam or the washing result is not adequate, a kitchen appliance can make a weird sound, decline water intake or leak from it´s seals. MV-Jäähdytys will always save you from the predicament!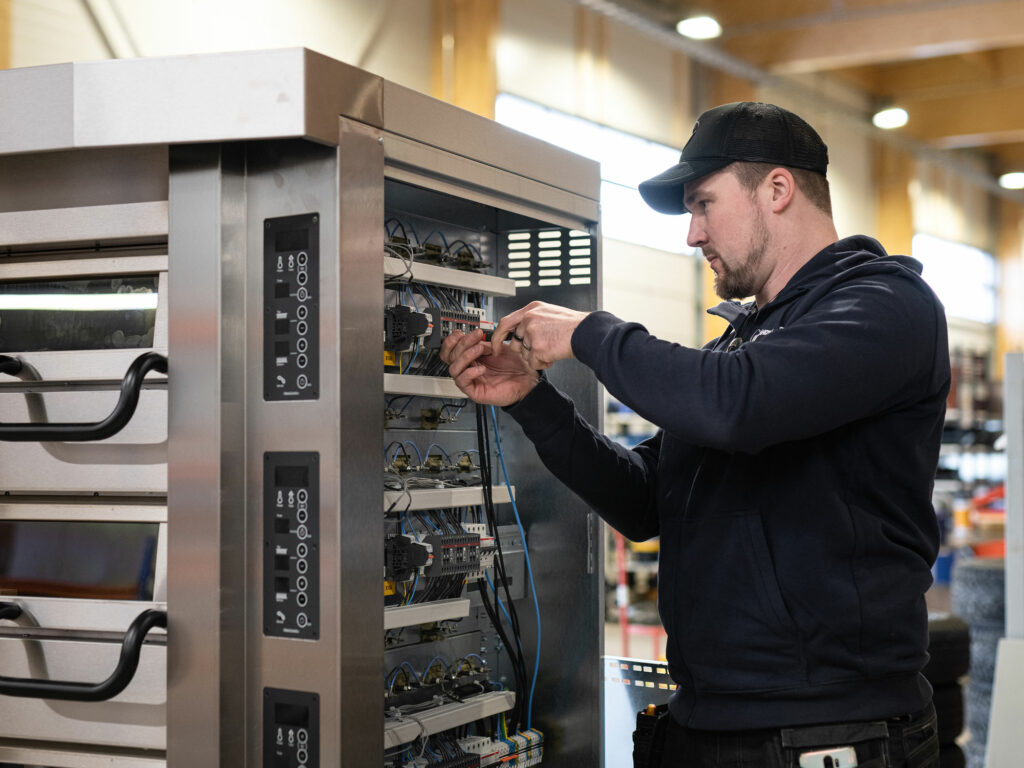 We do fault repairs in connection with the annual maintenance and every time we get a call to our 24/7 on-call and service number 0207861900. Fault repairs are done nation wide and around the clock. Every one of our technicians has thermal elements, most typical kitchen equipment spare parts, electrical components, circuit boards, control cards, gauges and test equipment they need for fault detection as well as raw materials like liquid tubes and hoses in their cars. Resupplying the cars is done by our logistic centers around the country as well as our own internal acquisition organization.
Installation and equipment delivery
We deliver and install big and small kitchens with their professional kitchen equipment as well as cold- and freezing rooms. We install new, serviced or replacement equipment. We can deal with everything, starting from ordering all way to starting up the equipment. We are also happy to provide user guidance on how to operate the equipment and minimize equipment malfunctions due to inexperienced users. Our main agenda is to assure the reliability of the equipment and minimize faults.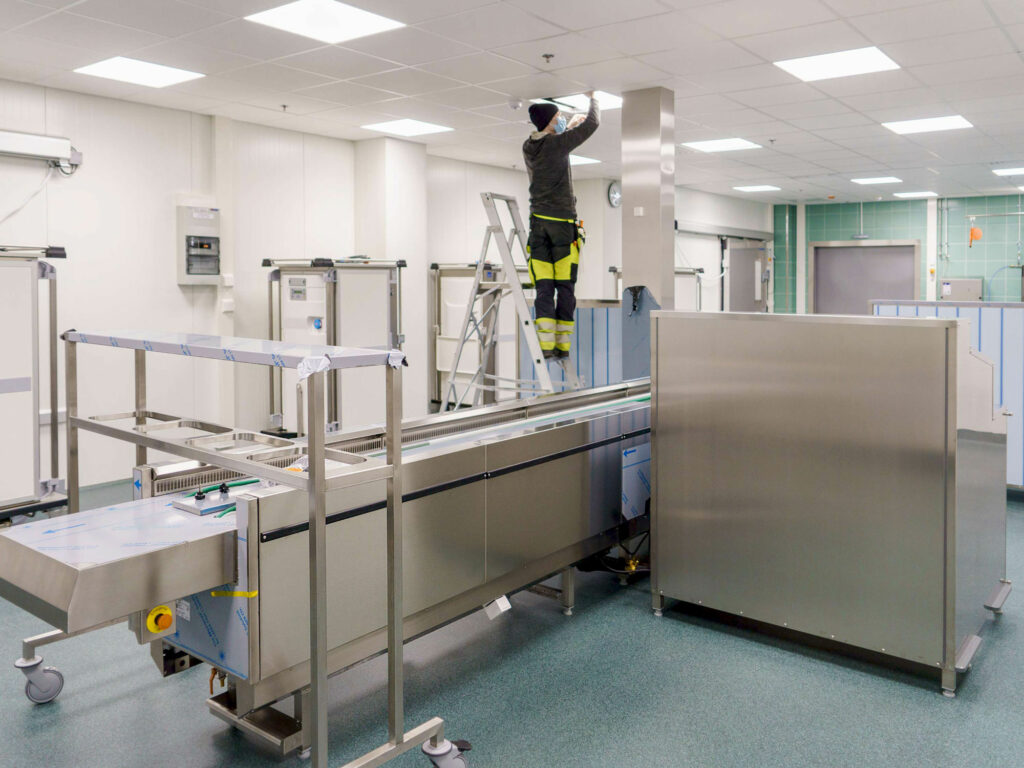 Feel free to ask for a quote in any kind of kitchen equipment spare part or a whole new machine. We have a broad acquisition organization, which has wide networks and our industries quickest operating procedures.
Professional services
We provide our professional kitchen customers planning assistance with equipment acquisitions, offer cold unit designs with electrical design.  We consult structure- and plumbing contractors and equipment manufacturers who are either the customer or partner in regards to our common mode of operation.
We have a solid touch base directly to our customer interface due to our project-, installation-, and maintenance work. We understand how the equipment should be situated to achieve the best day to day operation flow for the kitchen staff. We also know what to consider so that the installations go without issues, for example regarding electrical-, water-, and sewage connections.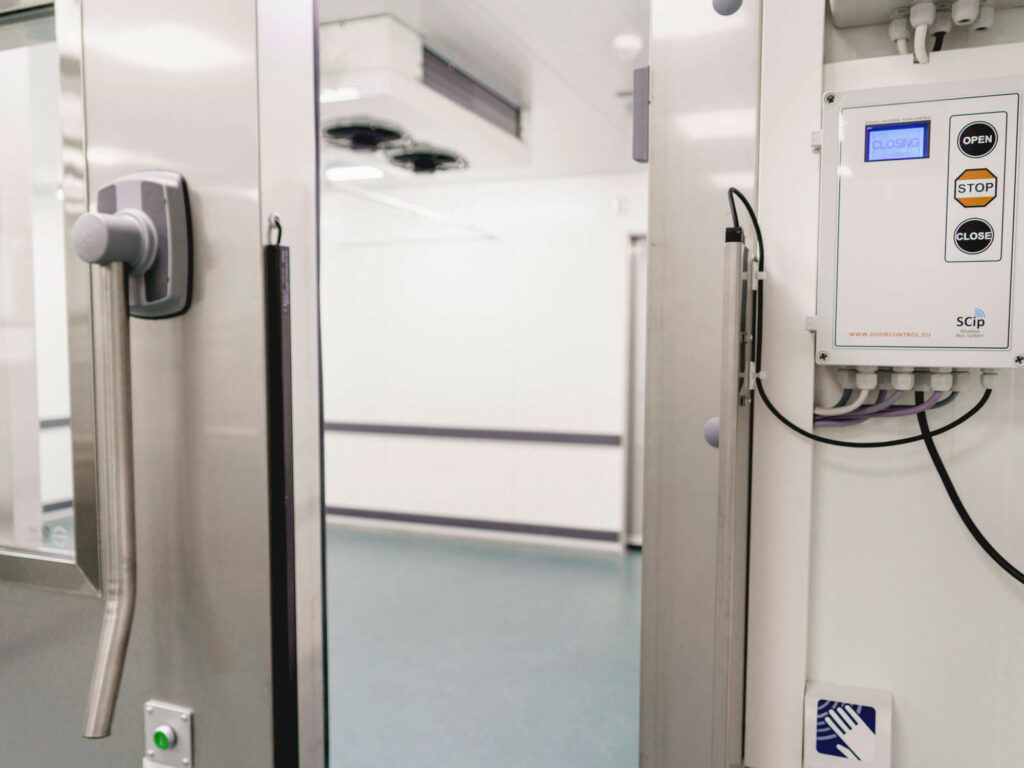 In addition to installation and maintenance, we provide customers with training on operating the equipment, equipment reprogramming and offer guidance with design- and operating situations that puzzle our customers.
Rental equipment and spare part deliveries
We offer several transportable cold storage trailers that reside in Tampere, Jyväskylä and Helsinki. We can deliver the trailers nation wide directly to our customer. The trailers are primarily meant to temporarily store groceries and can be adjusted to any temperature between + 15 and – 22 celsius. These cold storage trailers are utilized as temporary storages for example in defrosting and cleaning cold- and freezer rooms. They are also reserved for surprising equipment malfunctions when the groceries cold chain must remain intact. The cold trailer makes it also possible to do repairs and maintenance during the work week.
In addition to the transportable cold storage trailers, you can also find cold drawer cassettes and compressor units in our logistic centers. Call 020 786 1900 and ask for more information!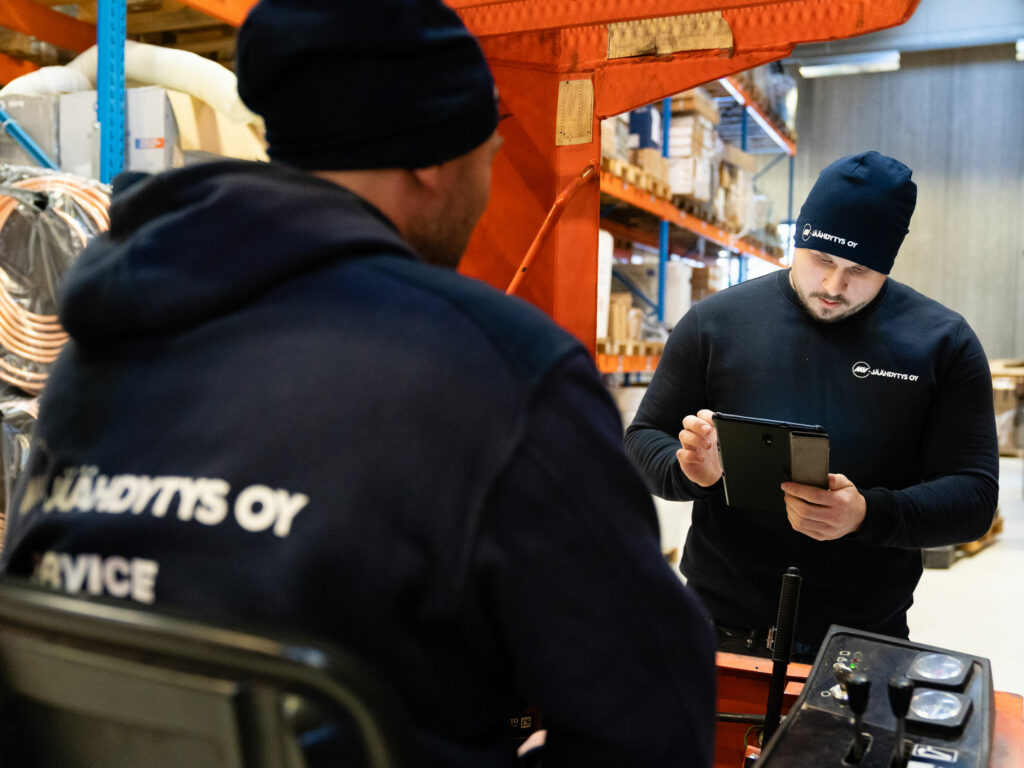 Our four logistic centers assist our maintenance technicians with their work, when a component or part needs changing. We also have our own in-house purchase organization that is harnessed to hunt down even the rarest spare parts as quickly as possible through our extensive networks. You can order spare parts by calling our customer service number or by filling out a offer request form on our website.